Happy New Year and welcome to 2016!! 
2015 was an important year in my musical and professional growth!  With the release of my sophomore studio album, Under the Covers, I was able to bring a long-term goal to fruition.  In that, I was able to mark a milestone in my development as a vocalist, arranger, and recording artist.  Following the release of Covers, I was able to share these songs with many of you in several differing performance settings.  This process culminated with two late fall concerts, evenings which I shall cherish for a long time to come!  The title of this live album, "With Babies and Dogs", is recognition to the loving and intimate surroundings that you, my dear friends, provided me as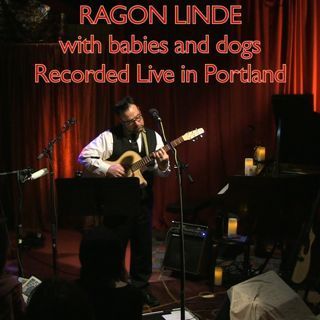 I had the privilege of presenting these pieces.  I am humbled and energized by the support you have given me.  This record is for you!
With Babies and Dogs includes live versions of all 16 tracks from Under the Covers and new live arrangements of 5 tunes from my debut album, Both Sides of the Story. In addition, the album concludes with 2 live bonus improvisational pieces featuring member of the Portland Eclectic Music Society! 
With Babies and Dogs is available now for digital download only from the following distributors: 
CD BABY: http://www.cdbaby.com/cd/ragonlinde3
iTunes: https://itunes.apple.com/us/album/with-babies-and-dogs/id1077658524
Spotify: https://open.spotify.com/album/3UHMaGuQ7PvP4QbzShAnnT
 Amazon: https://www.amazon.com/gp/product/B01AYPBNE2?ie=UTF8&keywords=Ragon%20Linde&qid=1453788000&ref_=sr_1_1&s=dmusic&sr=1-1-mp3-albums-bar-strip-0
BandCamp: http://ragonlinde.bandcamp.com/album/with-babies-and-dogs
Track Listing
Fake Plastic Trees* - Radiohead and featuring Saffire Bouchelion
Enjoy the Silence* - Depeche Mode and featuring Saffire Bouchelion
At Seventeen* - Janice Ian and featuring Saffire Bourchelion and Conifer Linde
Hallelujah* - Leonard Cohen and Featuring Saffire Bouchelion
The Eternal Shore Pt1 – Ragon Linde and A. Molotkov
Mood for a Day* - Steve Howe
Love on the Rocks* - Neil Diamond
Crying* - Roy Orbison
Child Inside – Ragon Linde, Scott Butler, and Cayla Butler
Baker Street* - Gerry Rafferty
Sunken Waltz* - Calexico and featuring Charlie Kersch
On My Way Back Home – Ragon Linde and Scott Butler
Losing It*  - Rush
Transcendent Love – Ragon Linde, Scott Butler, Cayla Butler
Helplessly Hoping* - Crosby Stills & Nash
Space Oddity* - David Bowie
Praludium IV* - Dmitri Shostakovich and featuring Laura Stahman
Time* – Pink Floyd and featuring Dave Unitan and Charlie Kersch
Turn on a Dime – Ragon Linde
Midnight Radio* - Big Head Todd and the Monsters
Let's Count Silences - Ragon Linde and A. Molotkov and featuring Linda Jo Reinhard
Tangled Mess (Bonus Track1) – Portland Eclectic Music Society
Let it Go (Bonus Track2) - Portland Eclectic Music Society
*Used by Permission