Greetings and Summer is Upon Us! 
Hello dear friends and I hope you are achieving your dreams thus far in 2016!  Like you, I have many things I hope to get done on this 3-day weekend, one of which is to reach out and let you know about some plans in the works for my music over the next few months and share a few things about what I have been up to this spring, so here goes!
It's been almost 10 years since I played a gig in Oklahoma, so I think it's about time! I will be back in Tulsa from 6/9 - 6/18 to attend my 30 year Nathan Hale HS Reunion and to see friends and family. Come join me Los Cabos in Owasso to have an adult beverage, Mexican food, and hear some tunes! I will be opening up for my friend Craig Seiler's group who will be playing immediately following my set.
When: Friday June 10th, 2016 from 6:00 - 7:00 p.m.
Where: Los Cabos - 9455 N Owasso Expy; Owasso, OK 74055
Later on in June, I will be playing another show with the talented song writerThomas Price.  Come out and finish your weekend right with food, drinks and tunes!
When: Sunday June 26th, 2016 from 7:00 - 8:00 p.m.
Where: Jade Lounge - 2342 SE Ankeny; Portland, OR 97214
New Live Performance Video - Fake Plastic Trees:
In November of last year, I had the amazing opportunity to perform all 16 tracks from last years release - Under the Covers at Vox Academy.  I released the live audio from this concert as part of a live album - With Babies and Dogs earlier this year.  I am happy to announce the first video from that concert is now available on my You Tube channel!  Please check out Fake Plastic Trees featuring my good friend Saffire Bouchelion on percussion and vocals.  Thank you to Julie Garland for the fantastic job in editing and post production for this video.  Look for more videos from this concert to be released over the coming months!
New Recording Projects:
I am planning two new album releases over the next year.  The first will be an EP entitled Transitions.  Transitions will consist of 8 songs, 4 of these will be covers and 4 will be original pieces.  The 4 cover songs will be an eclectic mix of tunes by Fiona Apple, Rush, David Bowie, and Caetano Velosa.  Transitions will be very stripped down consisting of just acoustic guitar and vocals.  You can look for this new release in early August; it will be made available on-line only on CD Baby, iTunes, Amazon, and other on-line music retail sites as well as for streaming on Apple Music and Spotify.
My second release is a bit more of an ambitious undertaking that I have been thinking about for a few years.  The title of this album will be Borrowed Lines in Borrowed Time (or BLBT for short).  In this project I will be merging two art forms into a collection of 10 new original songs. Let me explain - One of my favorite and most influential drummers is Stanton Moore from the bandGalactic.  A few years ago I started studying out of a book of his called Groove Alchemy which features beats and grooves by many of the legendary funk drummers including Jabo Starks, Clyde Stubblefield, and Zigaboo Modeliste.  So, the 10 songs on this new album will be built around beats created by these masters of groove - hence Borrowed Time.   For the lyrical content in the project, I reached out to my Portland writer and poet friends to see who would be interested in contributing lyrical content that I could forge into funk songs.  As usual, they stepped up with some fabulous poems and stories and so I am pleased to announce that BLBT will utilize works from A. Molotkov, Carrie-Ann Tkaczyk, and Paradama Purusha - hence Borrowed Lines.
So far, I have chosen the groves that will shape these new songs and recorded those as separate scratch tracks into ProTools.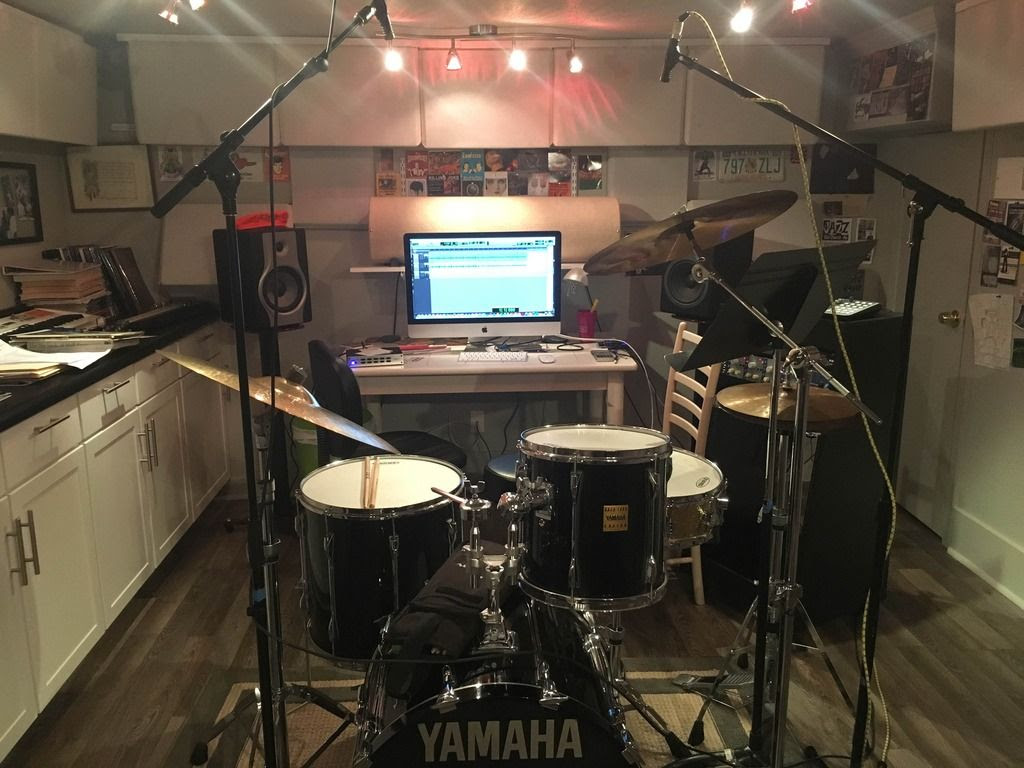 I then dumped those groves onto my Boss RC-300 Loop Station so that I could play with riff ideas and chord progressions. A few weeks ago on a song writing trip to the Oregon Coast, I assigned these grooves to the lyrical content and started the very early process of merging these Beats and Lines into the
beginnings of Songs!  Once I complete the release of Transitions later this summer, I plan to return to BLBT and hopefully complete the song writing process at the end of this year and start recording early 2017.  My goal is to be able to release BLBT in the summer of 2017!
Okay, well congratulations, you have reached the end of this newsletter!  I enjoy talking about the music making process and hope you enjoy reading. Have a spectacular summer and I hope to connect with many of you soon!