Today I look back on my 50th year with a sense of gratitude in the opportunities and experiences I have been blessed with.  It's been several months since I sent out a newsletter but I feel it fitting today to share some highlights from my journey this year.  I feel in 2017 that my musical efforts are allowing me to shape myself as an Activist, Collaborator, and Entertainer.  Following are some highlights that fall within those soft boundaries...
As an Activist, I put together a performance piece with my friend Kevin Lay called Cathedral for Healing.  We performed this the day after the Women's March and later released this piece as a single.  Proceeds from this piece along with my 2016 single I am Scared will be donated to Amnesty International.  In June, I was invited to accompany a concert by the Bad Ass Women's Choir which benefited Portland's Know Your City project.  And in July, I joined Portland's Revolution Choir which sings original progressive themed songs.  Check out our recordings and video's and learn about our mission at revolutionchoir.com.  We are looking to be very active in 2018 with our mission of impacting the upcoming Midterm Elections!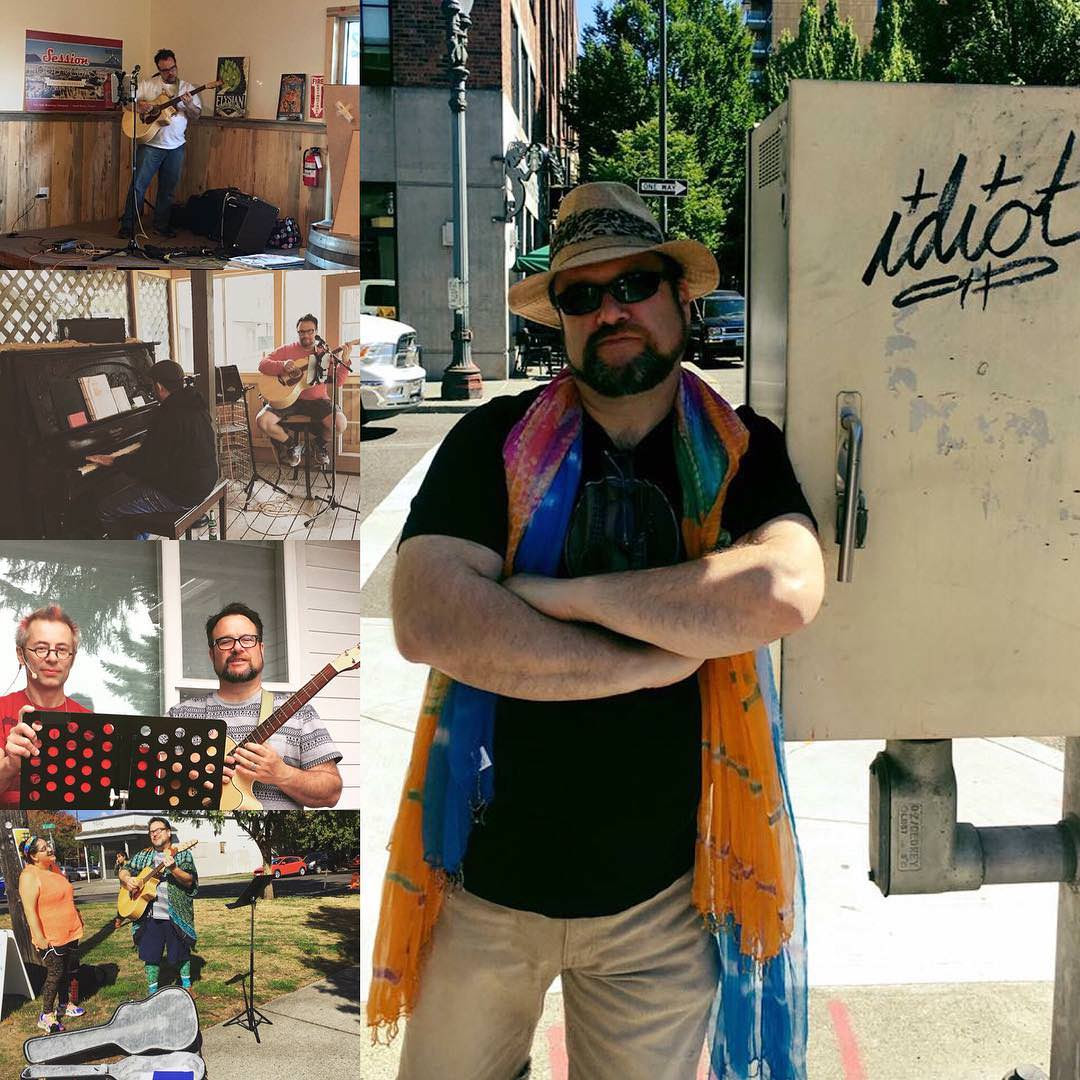 As a Collaborator, I was honored to be invited to perform along side and accompany my friend Lydia Ledgerwood-Eberlein in her Spring Performance Recital and my long time creative partner A. Molotkov in a Summer Salon presentation.   September was a busy month with 6 performances with the Light Opera of Portland in the presentation of Gilbert and Sullivan's "The Gondoliers" where I played percussion in the Pit Orchestra.  And in October I finally went back and marched in the University of Oklahoma Alumni Band at Homecoming!!  Also this year I performed in two seasons with the Vox Academy Healing Voices Choir where I also served as a member of the Vox Board of Directors.  Throughout 2017 I recorded parts for my upcoming album "Borrowed Lines in Borrowed Time (BLBT)".  BLBT represents a collaboration with 3 Portland writers, A. Molotkov, Carrie-Ann Tkaczyk, and Paradama Purusha.  Look for the release of BLBT in the summer of 2018!  And, one of my favorite collaborations was forming a new band with my friends Lizzy MacKenzie and Lydia Ledgerwood-Eberlein called LiLyLin; look for our debut feature performance coming up next spring!
Finally, as an Entertainer, I was hired to play 3 birthday parties, 1 wedding, 3 solo gigs at the Growler House in Newberg, OR, host a live Karaoke event at the Growler Housein Sherwood, OR, and I played 2 nights with Peter De Les Dernier in Ouray, CO.  In May I learned and performed my first song in French, "Don Quichotte a Dulcinee" by Muarice Ravel for the NW Vocal Yoga Spring Recital.  And in September while traveling in Alaska, I wrote the lyrics for the album I will work on next which is tentatively entitled "Homer".  Look for the release of "Homer" in 2019!
It was a busy year and I round the corner to year 51 with a sense of gratitude to all of those whom I share my days on this wonderful planet!
Peace and love and Happy Holidays!
Ragon