2016 - The Final Month
2016 has been a year of continued personal growth with many musical projects coming to completion and new directions being charted.  The world around me, well to be honest, I am very concerned.  I come to the end of 2016 finding strength from my family and the brave and strong artistic community around me.  Following are a few notes of interest around my music.  Thank you to my community for your love and support during 2016.  Let us stand together brave and strong in 2017.
"I am Scared" is a single release inspired by the 2016 Election in the United States. The song is written from the perspective of a fictional person of color, immigrant, refugee, queer, and/or non-Christian. You pick, we are all scared right now. Proceeds from "I am Scared" will be donated to Amnesty International.  You can purchase "I am Scared" on-line as follows:
Amazon - Should be up any day now
You can also stream the new single on Apple Music and Spotify
Healing Voices Choir Concert - Sacred Geometries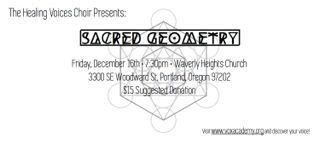 Healing Voices Choir, in association with Vox Academy, is a chamber choir that I sing in dedicated to healing and empowering our own voices and sharing inspiring music with our community. This concert will feature beautiful works by Arvo Pärt, Ross Lee Finney, McGlynn, Lewandowski and Handel. Rebecca Stuhlbarg is the conductor, and the pianist is Peter Fullerton. Some soloists, including me, will be featured, as well as small group numbers with beautiful harmonies. This joyous choir will also share rounds and sweet, short songs affirming peace and celebrating the coming solstice - please join us in exploring the many shapes of song!
When - Friday, December 16 at 7:30 PM - 9:30 PM
Where - Vox Academy, 3300 SE Woodward St., Portland, Oregon 97202
Tickets - $15 Suggested Donation at the door
First show of 2017!! My dear friend and co-collaborator Kevin Lay will be joining me for this performance. Expect a show heavy in experimentation, original music, and angry improvisation! Use the code RAGON343 to get $2 off tickets. Offer expires 12/24. 
When - Sunday, January 22 at 6:30 PM - 9:30 PM
Where - Analog Cafe, 720 SE Hawthorne Blvd, Portland, OR 97214
Tickets - $11